(Click your browser's BACK button to return to the product listing)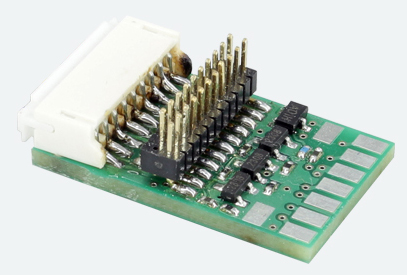 ESU51954
Adapter Board 21MTC to 9-pin JST
Perfect for Athearn (and others) this new 9 pin (female) 21MTC (Male) adaptor board allows the popular 6 output ESU 21 MTC LokSound and LokPilot decoders to be easily added to your favorite locomotive.

MORE FUNCTIONS
More and more locomotives now have front and rear headlights and front and rear flashing ditch lights. In order to accommodate for this in DCC 6 function outputs need to be used. As 8 and 9 pin DCC plugs only allow for 3 and 4 outputs respectively, this new adaptor board will allow easy conversion to our 6 function decoders. 4 Outputs though the 9 pin plug and 2 more on solder pads.

1.5 VOLT LIGHTING
As Athearn normally uses 1.5 volt bulbs it is often easier to use the supplied resistance in the Motherboards for those lights. This new adaptor board also includes 1.5 volt light resistance for the additional 2 outputs that do not already go through the 9 pin JST plug. ESU decoders also include the ability to dim the outputs to match perfectly the onboard resistance with the adaptor resistance if needed. There are also solder bridges for bypassing this resistance if bulbs are not used.

In addition there are extra common pads and solder pads for speakers directly on the adaptor board.

Adding Great DCC and Sound with all the proper lighting has never been so easy.