(Click your browser's BACK button to return to the product listing)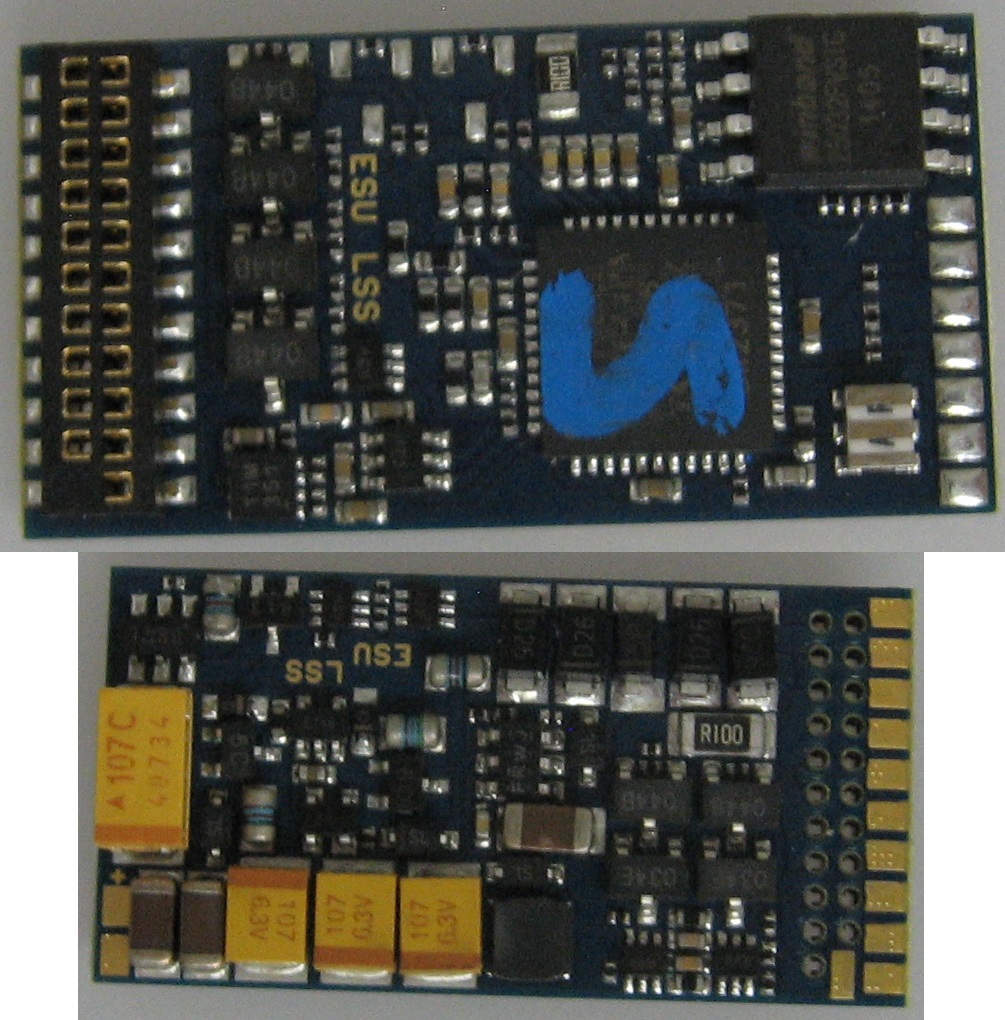 ESU73900
LokSound Select 21MTC 6-Function Sound Decoder
(1.189" x 0.609")

LokSound Select Quick Start Guide(.pdf)

NOTE: Sound files for this decoder are in the 734XX group. Sound files in the 738XX group can also be used, the LokProgrammer will convert them for use with the 73400/73900 decoder.
Tired of hardwiring decoders because there are not enough functions available in a standard 8 or 9 pin NMRA plug?

Want the ability but don't want to take the time to do all that soldering? We have a solution!

ESU's manufacturing partners including Rapido Trains, Bowser, Atlas, InterMountain Railway Co. and True Line Trains are making excellent locomotives with wonderful lighting options. Unfortunately the standard 8 or 9 pin plug simply does not have enough connections to provide for all of these output functions. So we are happy to announce that along with the standard 8 pin plug socket (InterMountain's Models DO NOT have the 8 pin plug) these companies will now provide an NMRA approved 21MTC connection as well! This connection will allow for all six of the Select decoder's output functions, plus motor and speaker connections! Plus if there is ever a problem you simply remove the decoder which contains no wires and send it in for repair. No more sending the entire engine back for warranty work!

All engines coming from the above companies containing ESU Sound will come with the 21MTC Select Decoder. To support the upcoming engines delivered without sound, we are pleased to announce a brand new Retail LokSound Select Decoder. The LokSound 21MTC Select is available NOW!

-Great Size 1.18" x 0.61"
-Versatile DCC & DC "Dual Mode" decoder!
-8 channel sound system!
-SIX lighting outputs and a 1.1A motor controller
-Available with ALL Current LokSound Select Sound Profiles
-Use 4, 8, or 16 Ohm Speakers (4 Ohm preferred)

All other features of this decoder match item #73400.